Gun Show Follies
Wednesday, March 21st, 2018
---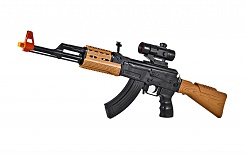 HOSTESS
Welcome to Gun Mall USA! Don't forget you're entitled to fifteen minutes of free practice with every purchase! Our child care area is located right next to the practice tent. We have slides, swings, a sandbox and toy guns. ASK ME ANYTHING! and have a carefree family day of gun-fun!
NORENE
Your outfit is awesome! Do they give it to you or do you have to buy it?
HOSTESS
All they gave me is that ASK ME ANYTHING hat. I hate it. You wouldn't believe how often I'm asked for the same thing, and I'll tell you, it has nothing to do with guns. Twelve bucks an hour isn't enough for what I go through. Never again! They told me it was a jewelry and Western Regalia show.
NORENE
But they do sell jewelry and accessories, don't they? I want an evening purse that will hold my gun and makeup. It's for a wedding, so it should be, like beaded. Walmart doesn't carry any the right size.
HOSTESS
Go down the first aisle to your left to the very end. That's where the accessories are.
*********
MERCHANT 1
Sure, we have evening purses! You could have the sequin stars and stripes here. That one goes with everything.
NOREEN
I love it!
JOE
Do a little better on the price and I'll take it.  Happy, honey?  It's her birthday.
MERCHANT 1
Buy a gun and get 50% off accessories.
JOE
Today I just came for her sake. I've got an arsenal of guns. You name it; I've got it.
MERCHANT 1
No 50% off for just looking.
MERCHANT 1
Lots of fantastic new gun styles! There's a ten-day waiting period in this state, but if you buy a gun today, you can take home the purse. No background search for a purse. Just pay in advance for the gun you choose.
JOE
Couldn't we fix that up, like say I was at your last show and bought a gun then? We did the check and all that stuff a couple of weeks ago.
NORENE
The wedding we're going to is tomorrow, and it's a concealed-carry affair. I feel undressed without my gun. The wedding is a formal affair! .
MERCHANT 1
Joe will have his, won't he?
JOE
Just a hand gun. More formal.
MERCHANT1
Show me the receipt and it's a deal!  But only if you bought it at GunMall USA in the past 6 weeks.
JOE
I don't like that guy. Let's go see those new models.
********
MERCHANT 2
OK, I see you recognize fine hunting rifles. I get a whole different clientele coming down my aisle. What's your particular pleasure?  Deer, moose, elk? Of maybe something a little lighter for ducks, pheasants, maybe partridge, quail? Crows bothering you?  There's a special on bird guns; today only!
BRIAN
Isn't duck hunting where you have to sit in one if those dinky tents freezing your butt off? In the winter? No wonder you've got a deal on those. No thanks; I'm looking for an all-purpose rifle.
MERCHANT 2
Been in the military? Pre-owned but extremely well-cared for. Modified according to the state law. Bulgarian. And it comes with a bayonet, not that I'm saying you'd need it, but you'll never mix up your gun with another guy's.
BRIAN
Wow! Feels like a two-by-four. Do you rent guns? I may not like hunting enough to do it again.
MERCHANT 2
That rifle's a beauty with 50 caliber capability. You could bring down a grizzly with it.  Those eco-nuts protected the bears and now we've got 'em coming in the kitchen door and raiding the refrigerator. You see one of those bears going for the Häagen-Dazs in the freezer, you wouldn't mind a little extra weight.
BRIAN.
I've never been hunting, actually. This is for a company retreat.
MERCHANT 2
If it's not too personal, what kind of company do you work for?
BRIAN
We're an accounting firm.
MERCHANT 2
You're in the wrong place, pal. Go to a real estate office. That's for renters.
********
MERCHANT 1
Joe, back again?  Changed your mind about that 50% off?
JOE
So what if I buy one of those Hide-Your-Gun gadgets? Two things and I get the 50.
MERCHANT 1
For gun sales only, but I've got a great stock of hollowed-out books, though they only take handguns. How about a hollowed-out Bible? A family bible can take two guns.  They're my best sellers. You can have genuine reconstituted leather binding or just plain cloth.
JOE
No, we're got a bible and my mother-in-law reads it when she's baby-sitting the kids…
MERCHANT 1
Then you want the Mayo Clinic Family Health book. Any little accident, you'd know what to do. That's the best one, not at all technical.
JOE
Whatever. Does it have pictures?
MERCHANT 1
You understand, yours isn't going to have all the actual pages and illustrations. We have to take most of that out for the padded lining. You can pick what chapter you want, but most folks choose Emergencies. Put it between two other books.
JOE
So I've got to buy two more books? A couple of beer mugs will work just fine. I collect 'em.
MERCHANT 1
Right. I'll give you 10% off for two purchases.
********
NEWSCASTER
An unusually tragic Monday here on the central coast!  In a normally quiet neighborhood in San Rosario, the six-year old daughter of a local woman accidentally shot herself while playing dress-up with her eight-year old cousin.  In an unrelated case in Los Arcos, a thirty-four year-old man was found dead in his car, parked at a popular view point just off the freeway. Neighbors said he had been recently divorced and had lost his job in an accounting firm. And this just in!  An elderly woman baby-sitting for her grandchildren died of cardiac arrest when a gun fell out of a first aid book.  The parents were out of town at a wedding.  Apparently the grandmother had a history of chest pain and was looking for advice.  And remember, do your Christmas shopping early at our November show in your town!  Stay tuned.  Sports is next!
---
Get the book! The Satirist - America's Most Critical Book (Volume 1)
Online Ads
Amazon
0 comments