---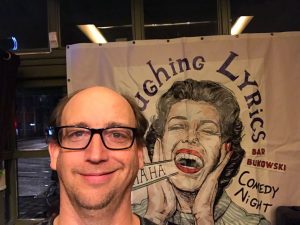 Dan Geddes is the author of The Satirist: America's Critical Book (Vol. 1) and the editor of the online journal The Satirist: America's Most Critical Journal, an astonishing collection of satires, reviews, reviews of imaginary works, fiction, essays, poems, and satirical news.
(Click here to browse Geddes' 200+ articles for The Satirist).
In addition to satire, Geddes' serious criticism in The Satirist online has been widely cited in books, high school and university courses, academic papers and journals, newspapers, and websites.
Geddes has also written several unpublished works, including a literary comic novel, a screenplay (romantic comedy), and a collection of travel stories.
He lives in Amsterdam.
You can contact him at dan [at] thesatirist.com or on Twitter @dangeddes
---
Videos (lectures, Standup comedy, and interviews)
---
Lectures on Satire
Dan Geddes – "Satire in the Global Village" – Institute of General Semantics, Princeton Club, New York, October 4, 2015
Dan Geddes – "Satire as a Semantics Problem" – Institute of General Semantics, Princeton Club, New York, October 22, 2016
---
Standup Comedy
 Republicans Support Bombing Agrabah
A Robot Will Take Your Job
The Five Stages of NSA Surveillance Grief
Dan Geddes – Standup – Facebook Funeral
---
Interviews
UN Country Club Show 1: Dan Geddes of TheSatirist.com
Brian White of GlossyNews.com – Interview with Dan Geddes of TheSatirist.com
Author Links