Interview with a Satirist: Dan Geddes
Thursday, September 25th, 2008
---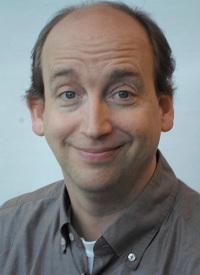 "Writing long books is a laborious and impoverishing act of foolishness: expanding in five hundred pages an idea that could be perfectly explained in a few minutes. A better procedure is to pretend that those books already exist and to offer a summary, a commentary."
— Jorge Luis Borges
Interview by D.P. Ganger
Good morning, Dan Geddes. Tell us about your website, TheSatirist.com
The Satirist is an online journal that includes both fact and fiction. There are satires, often written in the form of reviews of imaginary books or movies. There are also satirical biographies of imaginary artists, a French philosopher, a German composer, a Dutch architect and so on. These are meant to entertain. There's even a satirical personality test.
Yet there are also serious reviews about movies  and actual books —about philosophy and religion and other things.
For some authors and movie directors, like John Irving and Quentin Tarantino, there are both real reviews and reviews of works that they haven't really created—"imaginary reviews".
The Satirist's blend of fact and fiction is a kind of commentary on the internet age, with all of its uncertainties about information.
That's an unusual combination of material.
Borges also created literary forgeries, including both real and imaginary book reviews—or even translations of imaginary works—in the same volume.  I find it satisfying to write reviews of imaginary works, as it's more creative and fun than writing real reviews, but less time-consuming than actually writing a great novel.
What kind of reactions have you received from readers?
Mostly very positive. But there has been some confusion. A Russian woman once wrote to me insisting that we must really have a lousy editor because she had a Master's degree in Literature and she was certain that no great Russian poet named Max Sazonov ever existed.
Or this American guy wrote to me asking where he could buy the DVD of Disney's The Book of Revelations, because he had seen the review and wanted to show the movie to his Sunday school class.  Similarly, a lady who was writing her Master's thesis on Orwell's 1984 wanted to know where she could find a copy of Disney's 1984 after having read the review.
It's always a strange moment when I write them back and inform them that these are fictions. The pieces are often patently ridiculous, and are not intended to fool anyone, but as satire they need to be a bit plausible. So if you land in the middle of one of these pieces from a search engine and start reading you just might be fooled.
Who are your influences as a writer?
It really depends on what I'm writing. I use different voices for different genres.
While writing satirical news, it's hard not to be influenced by having read The Onion years ago, or having watched Saturday Night Live even longer ago.
While writing movie reviews, I'm probably imitating or channeling Roger Ebert and Pauline Kael.
While writing book reviews, I'm influenced by Harold Bloom and Alfred Kazin.
The Lost Geniuses fake biographies were inspired by some weird combination of Woody Allen's comic prose, Paul Johnson's biographical style, and Thomas Pynchon, who created so many literary artifacts in his works.
Is it exciting to finally be published in print after so many years of online only?
Yes, it's very satisfying to have published The Satirist: (vol 1.).
Why is The Satirist: (vol 1.) subtitled "America's Most Critical Book".
The Satirist online has been called "America's Most Critical Journal" since 1999. Other websites were already calling themselves the funniest or most hilarious, but The Satirist would be different; it would be the "most critical." Not the "most critical of America," just the most critical in general.
And The Satirist is actually more of a criticism site, a book review site than a satire site, when you see what people are reading. At least 70% of the pageviews are for the serious pieces about books or movies or whatever. So it is critical in the sense of featuring articles of serious criticism in addition to satire, which is also critical but in a different sense.
###
See also Duotrope interview with Dan Geddes
---
Get the book! The Satirist - America's Most Critical Book (Volume 1)
Online Ads
Amazon
0 comments