To 82 Women – A Former English Major processes the Weinstein Scandal
Saturday, February 10th, 2018
---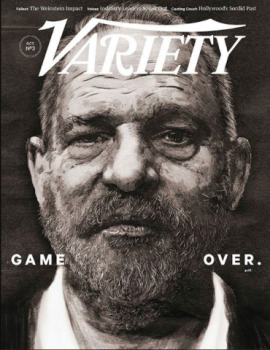 [After Andrew Marvell's To His Coy Mistress]
Would you had clout enough, or ties;
Your cringe, my dear, might not be so unwise.
We would mutually massage, and think which way
To wank, and pass our long love's day.
Thou by the Roche-Bobois
Shouldst rubbers find; here, I'll take your bra
Turn down the bed; I would
Love you ten seconds before the flood,
And you should, if you please, rebuff me with a sob
Unless, that is, you want to keep your job.
My vegetable love should grow
It sometimes takes awhile, you know
(It's partly why I do this)
A minute or two should go to praise
Thine ass, and on thy pussy gaze;
Twelve seconds to adore each breast,
And maybe twenty for the rest;
A finger laid on every part,
I don't give a shit about your heart.
For, lady, you deserve this state,
Nor would I love at lower rate.
But at my back I always hear
My classmates' voices: 'Fatty! Zitface! Queer!'
And yonder all before me looms
-I'm ugly, after all-just empty rooms.
Say no and I will take it out on you
And in my marble john, will coo
My echoing song: 'please watch me masturbate,'
And it will be too late.
I'll yank your contract; you'll flee to Dubuque,
To motherhood, perhaps, and toddlers' puke
And your nascent gifts all turn to dust,
And into ashes all my lust;
Until the next one.
Dubuque's a fine and private place,
But none, I think, do there embrace
(None with influence, at least).
Now therefore, while the youthful hue
Sits on thy skin like morning dew,
And while thy aspirations war with self-respect
Now let us sport…look! Finally erect!
And now, like a hooker virgin angel
Rather at once my junk devour
Come on, let's go and take a shower.
Let me roll your underwear and all
Your sweetness up into one ball,
And lift it to my face
Demolish all your wishes with rough strife
Drag you through the iron gates of life:
Then hug me at the Oscars: air-kiss, quick!
And keep it to yourself that I'm a prick.
---
Melinda Rooney writes, curates and edits Recycled Fiction (https://recycledfiction.com), a site for 'found' fiction, poetry, essays and art. Her work has appeared in various publications including North American Review, Washington Square and Quarterly West. She lives in Chicago where she writes and teaches philosophy and literature.
---
Get the book! The Satirist - America's Most Critical Book (Volume 1)
Online Ads
Amazon
0 comments