Wes T. Satire, Creator of Ironic Works ("Lysistrata", "South Park") is Dead
Sunday, March 25th, 2018
---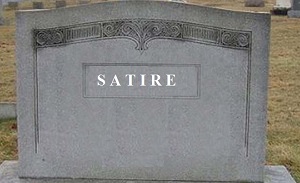 Wes Terne Satire, who mocked human flaws across a broad spectrum of media, died Wednesday in Brooklyn after a battle with depression. He was 2,618.
The son of vegetable farmers known for their corny humor, Satire spent his early years in Greece.  He moved often after that, popping up on both sides of the Atlantic in garrets, castles, pubs, cafés, universities, and the occasional iron maiden. His output—though marred in middle age by an obsession with bare-bottomed wenches—earned him increasing clout. By the 1700s, no crisis or scandal seemed complete until he had weighed in with a poem, essay, or drawing that made audiences snort syllabub out their noses.
Satire kept on rolling—decade after decade, century after century. Film, TV, the Internet, social media: name an outlet, he conquered it. Along the way, he survived wars, recessions, riots, political upheavals, terrorist attacks, and the mullet. Then suddenly, just when he began to seem unstoppable—immortal, even—he found himself unable to cope.
"The tailspin really started in, like, early 2017," recalls Satire's companion of ten years, Webb Meme. "He was still brilliant, but he couldn't take the frustration anymore. Every time he thought of a way to make fun of some government crackdown or firing or whatever, the White House would instantly do something even more Looney Tunes that made his idea feel stale. Or—and this happened a lot—they'd do the exact same batshit-crazy thing he'd been planning to joke about. I mean, you should've heard him screaming when they started all that 'teachers-need-guns' stuff. They basically beat him at his own game."
One winter morning, Meme recounts, he woke to find that Satire had been typing all night, having discarded 23 riffs on 23 successive Presidential tweets. "Make it stop!" Satire begged his partner. "Make him stop! Get the Band-Aids!" As usual, Meme explains, Satire's forehead was bleeding from being smacked repeatedly on the keyboard.
Meme tried to help. "Just do what I do," he remembers telling Satire. "Don't worry about being super witty, just talk in captions for the most clicks."
But Satire couldn't do that, says Meme, who sadly watched him waste to nothing in a tattered Spy magazine T-shirt.  By late February 2018, Satire had largely quit working, and refused all foods except for Ho Hos and Laffy Taffy, which he ate ironically. "In his last days he was just manic," Meme says. "He wouldn't sleep, wouldn't even sit—he just kept pacing and checking his Twitter feed, muttering, 'Great idea' and then, immediately, 'Too late.'"
Satire died at home, surrounded by loved puns and his vintage collection of Tom Lehrer records. He is survived by two sisters, Dee Rision (Tim) and Barb de Remarque (Greg), and nieces Snidelee, Snarki, and Libelle.
Services will be held Monday at 2pm in the Algonquin Hotel. In lieu of sending flowers, Satire's family asks that friends just rent Idiocracy.
---
Melissa Balmain edits Light, a journal of light verse, and teaches humor writing, poetry writing, and journalism at the University of Rochester. Her work has appeared  in The New Yorker, The New York Times, McSweeney's, Success, and other magazines and newspapers. Her comic poetry collection Walking In on People (winner of the Able Muse Book Award) is often mistaken by online shoppers for some kind of porn. Twitter handle: @MelissaBalmain
---
Get the book! The Satirist - America's Most Critical Book (Volume 1)
Online Ads
Amazon
0 comments