Gérard Depardieu Moves to Antarctica as New Russian Wealth Tax Takes Effect
Saturday, February 23rd, 2013
---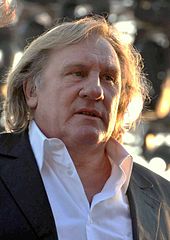 By Dan Geddes
MOSCOW – The Russian government today announced a new tax on certain high net wealth individuals, effectively immediately.
In an unrelated story, French actor Gérard Depardieu, who only recently moved to Russia, has moved to Antarctica. Depardieu is now a resident of Adélie Land, a province of Antarctica long claimed by France, where the effective income tax rate approaches 0%.
Tax experts suspect that the new Russian wealth tax was framed expressly to target Depardieu.
Sir John Cheatham, an international tax advisor with Dewy and Basher, LLC stated: "The new Russian net wealth tax only applies to individuals who were born outside Russia, who have proven assets of more than €5 million, and who have played the lead role in a film version of Cyrano de Bergerac. Only Gérard Depardieu, and perhaps a few other Russian taxpayers at most, meet those requirements."
Depardieu issued a statement from his new home in Antarctica: "I am very happy to live in this unspoiled and beautiful place. I have long felt a real love and comradeship with the good people of Antarctica. They have always been the truest admirers and most penetrating critics of my films."
"This move has nothing to do with taxes. That is absurd.  I intend to spend the summers here and collect meteorites, which I was always destined to do."
Depardieu's friend, Pepe Orléans, was not surprised by the move.
"I am not surprised by Gérard's sudden departure from Russia. He has already proven his willingness to move to countries with colder climates and lower taxes than his native France, such as Belgium and Russia. This seems likes the next logical step for him."
"Antarctica is much colder than his home town of Châteauroux, but at least Adélie Land is the French part. The croissants there are considered to be the best in all of Antarctica. Viva la France!"
The French tax authorities are reportedly revisiting their policy on individuals resident in French-claimed territory in Antarctica.
"The addition of Mr. Depardieu now raises the summer population of Adélie Land to eighty-one, mostly white-collar, inhabitants.  We will consider annexing Adélie Land to Metropolitan France. Then Mr. Depardieu would again be within our grasp," stated one anonymous French tax advisor.
23 February 2013
---
Get the book! The Satirist - America's Most Critical Book (Volume 1)
Online Ads
Amazon
0 comments