Why Jake Gyllenhaal is Too Pretty for Oscar
Saturday, February 14th, 2015
---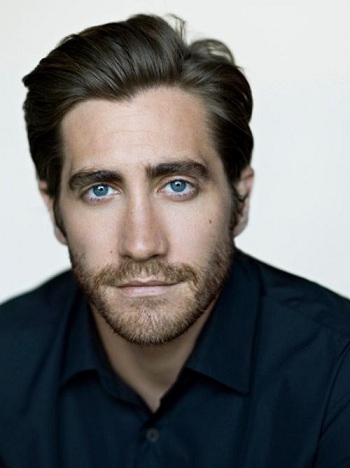 By David Toussaint
14 February 2015
Every year the Oscar nominations are announced and with it a snub so reprehensible it outshines any good the awards might attempt to celebrate. This time around we've witnessed an oversight so blatantly political and bigoted, and, quite frankly, petty, it makes you want to skip the ceremony altogether and watch a Hot in Cleveland rerun instead. Or actually sit through Boyhood.
I am speaking of Jake Gyllenhall's snub for Nightcrawler, by far the most accomplished piece of screen acting this year. Before you argue "the screeners were delivered too late," or "the movie re-wrote Southern California paparazzi history," or "Oscar voters are old and white and resent people with last names they can't spell," the reason for the snub had nothing to do with any of those misguided conspiracy theories.
Jake did not get an Oscar nomination for one reason and one reason only: He's far too pretty, and if there's one thing Oscar hates even more than an informed historian, it's a really pretty guy—why do you think Harvey Weinstein runs the place?
If a tough-looking man had delivered the tour de force performance Jake gave, one of those established "boys club" actors like Jack Nicholson or Robert De Niro or Hilary Swank, we wouldn't be having this conversation. To be fair, it's not just perpetually pretty men who are victims of Hollywood's double standard: I didn't even see Selma, but Hayek's gorgeous and she got snubbed too.
If you're wondering why Angelina Jolie was left off the list, look past her impossibly high cheekbones and Benetton family photos and right on over to her glamorous hubby Brad Pitt. See any Oscars under his fluffy blonde mane? Jolie is guilty by pretty association and last got an Oscar around… let's see, oh, the time she married Billy Bob Thornton. I rest my ugly case!
Adorable Reese Witherspoon got an Oscar nod this year because a recent video showed her being viciously manhandled by really mean police officers, and the Academy did not dare risk an L.A. (#doyouknowwhoiam) version of the Eric Garner debacle. Julianne More keeps getting nominated because, face it, Hollywood's gay mafia loves its gingers even if they're not gay, or men, and Nicole Kidman got an award for having to wear flats for ten years of marriage.
Lest you mention Halle Berry's Oscar win as a counterpoint, we all know that, as gorgeous as Berry is, she only nabbed an Oscar for political reasons. After years of avoiding the elephant in the living room, the Academy felt they needed to do the right thing and award a convicted hit and run driver.
Jake Gyllenhaal might be the prettiest doe-eyed ingénue to grace the screen since Montgomery Clift wooed Elizabeth Taylor in A Place in the Sun (he didn't get an Oscar either despite a failed attempt to de-beautify his face in a car crash), but he still has to fight twice as hard to keep from being treated as an equal.
The only time Jake did get nominated, for his bittersweet, Reverse Cowgirl turn in Brokeback Mountain, he wasn't even put in the leading actor category. Despite playing opposite Heath Ledger (Ledger was nominated as Best Actor), Jake was relegated to "supporting" actor. Heath may have pitched that tent, but Jake provided the depth that made every viewer such a Happy Camper.
While we applaud "guy" actors when they transform themselves physically for a role, like Bradley Cooper in American Sniper, or when they transform themselves spiritually into an actual god, like Matthew McConaughey in his Dallas Buyers Club acceptance speech, or when they simply stand next to men who have transformed themselves into old guys, like Jake's brother Maggie in Crazy Heart, gorgeous men who push the extremes are too-often overlooked.
It's not for lack of trying. Jake shed what looked like a billion pounds in Nightcrawler, making him appear so waif-like he could have appeared in a Tom Ford for Women print ad or been hired as the poster boy for Auschwitz victims. Another factor that can't be swept under the "he doesn't need one" rug: Jake is Jewish, and as much as we hate to admit it, Hollywood has a history of hating the Jews. Just ask Steven Spielberg or any of those MGM guys.
Starting with Donnie Darko, our Lad of Perpetual Prettiness has given us one stellar performance after another, all ignored by Oscar. By the way, do you know any attractive men named Oscar? Oh yeah, just one: Oscar Isaac, and where is his nomination!? In last year's Prisoners, Jake starred as the forlorn police officer so obsessed with his job he can't seem to find time to hit the gym. It was a majestic performance, almost Misfits Marilyn-esque in its tragic beauty. Monroe got a president and a baseball player and a stupid Elton John song, but she never got an Oscar nomination. Gyllenhaal is the male Marilyn, a Norma Jake Baker if you will. He's like candy in the wind; you just want to eat him up before he floats off into the ether.
In addition to Nightcrawler, 2014 also saw Jake play twin beauties, one good, one evil, in the mostly ignored Enemies flick. We haven't seen that kind of amazing double image work since Elizabeth Montgomery and Barbara Eden tried it in Bewitched and I Dream of Jeannie, respectively. No Oscars there, either!
Until we accept the fact that men and women can be beautiful and talented, luscious lovelies like Jake will continue to be shunned. Keira Knightley, another sultry actress who also shed what looked like a billion pounds for her role in The Imitation Game, was, surprise, nominated for "supporting" actress in that flick. Like any respected critic, I don't need to see the film to know how absurd that snub was. Or how telling it is that Steve Carell had to get an even uglier nose to make himself Oscar-worthy.
If Jake, like so many stars past, were to become tragic in real life, then perhaps the Academy would look kindly upon his baby blues. But with the notable exception of dating Taylor Swift, Jake refuses to play the victim. He's also not part of the Hollywood snob set. Jake lives in New York City, where he's currently starring in the Broadway play Constellations, opposite Ruth Wilson, who just got a Golden Globe for her role on The Affair. No offense, but next to Jake she really does look like a constellation prize. Or Ruth Buzzi.
Jake also rides the subway, just like a real person, usually wearing basic jeans and sneakers, a touch of makeup, and a simple up-do. While he may indulge in the occasional man-spreading (the poor lad is probably so tired from meeting casting directors that he can no longer keep his legs together), he mostly minds his own business and plays his iPod, probably listening to Strasberg acting tapes to further refine his craft.
Film-wise, Jake has once again metamorphosed, this time as a tattooed, beefed-up wrestler for Southpaw, in what looks like the most intriguing sex-symbol-gone-serious turn since Raquel Welch rocked the screen in Kansas City Bomber. Despite adding significant weight to her bust line for the role, Welch didn't get an Oscar either.
When Jake's new film comes out, who knows, maybe Oscar will get over itself and finally honor the deserving. If not, we must accept the Academy Awards for what they truly are: A silly bunch of awards taken far too seriously that often reward people for the wrong reasons by the wrong people who have obviously never done their homework. Unlike me. As for Jake, he has nothing to worry about: Despite the Academy's snub, we mortals can never quit him.
David Toussaint is a contributor to the Huffington Post, and the author of four books, most recently DJ: The Dog Who Rescued Me.
---
Get the book! The Satirist - America's Most Critical Book (Volume 1)
Online Ads
Amazon
0 comments