The Satirical Spirit of Set List: Stand-Up Without A Net
Sunday, June 29th, 2014
---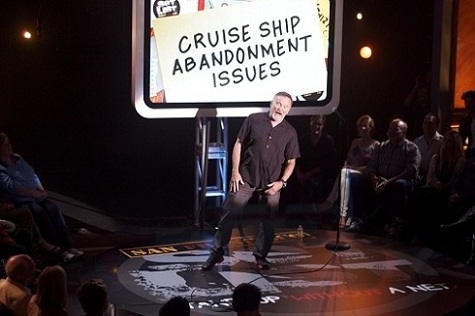 Robin Williams photo credit: Dan Dion
When I first encountered Set List: Stand-Up Without A Net, I felt the same satirical spirit I've experienced in my work as an improv student with Gary Austin, founder of the legendary Groundlings. In both settings, working in the moment forces an artist to abandon whatever intellectual tricks they may utilize to "entertain" an audience. When an improv actor or stand-up comic is fully present, they have no time to think, and their unfiltered thoughts just come out "as is." When one is in the moment, one doesn't have the time to run though a list of "shall nots" such as "If I say this, I will lost my fan base?" or "Will I lose my sponsorship if I utter that offensive thought?"
In this magic of the moment, new discoveries are made when a performer gets out of their head and responds from the heart. Australian comic Wil Anderson describes performing on Set List as "mainlining comedy." (Overview with Rick Overton podcast #21) Working without a script forces one to simply respond to the moment, thus illuminating the harsh nuggets of reality hidden underneath mounds of prepared bits.
Photo credit for Bobcat Goldthwait: Hannah Crichton
In Set List, comics get topics thrown at them sans script. Instead of going on stage with a set list containing one's time-tested jokes, comics receive the topics for their comedy set at the same moment the audience sees them.  Hence, there's no time for a comic to rely on their prepared schtick guaranteed to tickle the masses to sleep. As UK comic Sanderson Jones, founder of the global Sunday Assembly atheist church, observed, "I think people just standing up and talking about things that are unplanned feels more real than most planned talks."
With Set List, there's just a comic given a concept with the challenge to create something from nothing. According to Troy Conrad, creator and co-executive producer of Set List, "This format allows us to tackle issues relating to hot button topics like religion, feminism, and the Middle East. The reason we can do this because when comics bring these things up, audiences aren't receptive. But when issues are thrown at them on set list, they are compelled to address them head-on with comedy." Hence the audience doesn't complain when a comic crosses the line because the comic was thrown into the situation.
Photo credit of Wil Anderson: Alexandra Howell
Comic Keith Lowell Jensen shares his story of stepping on stage without a net.
Troy asked me to perform in a Set List show and as soon as I confirmed that I'd do it I was filled with regret, and terror. I'm a stand-up comic. I don't have the perfect come back when insulted by some goon. I go home, write down what I wish I would've said, rewrite it, rehearse it, refine it at an open mic, then say it in front of an adoring crowd who've paid to listen to my perfect come back. This "Without a net" business was outside of my comfort zone. Troy wouldn't give me my set list a month early, nor a week early, nor a day early. Bastard handed it to me as I walked onstage. I'd gotten some wise words from Rick Overton right before the show that saved me. "Play the game. Don't talk about it being a game. Do it as if it's your real set list and never mention the game." And to my amazement, it just worked. I had call backs, and momentum and a plot and when I got offstage I immediately wanted to do it again.
In an online world where people become increasingly jaded to the McDonaldization of commercial media, Set List stands as an alternative for those looking for more authenticity. In this capacity, Conrad notes he has found the perfect partner in comic Paul Provenza, "He never waters down anything."
Photo credit of Matt Kirshen: Hannah Kyle Crichton
Currently, Set List is airing in the UK and Australia as a 14-episode TV series. Also, Set List will be returning to the Edinburgh Fringe Festival from August 1-25, 2014. In addition, one can find a 60-episode series currently airing on the Nerdist Channel with a new episode every Friday.  For the latest regarding Set List's live shows and festivals, follow @SETLISTSHOW on Twitter.
29 June 2014
Becky Garrison's seven books include Roger Williams' Little Book of Virtues, and Red and Blue God, Black and Blue Church (Publishers Weekly Starred Review). Follow her current projects via twitter @Becky_Garrison
---
Get the book! The Satirist - America's Most Critical Book (Volume 1)
Online Ads
Amazon
0 comments