---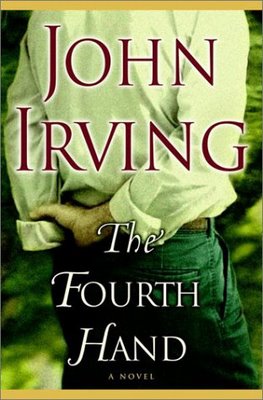 See also:
A Prayer for Owen Meany,
A Son of the Circus,
A Widow for One Year
an imaginary review of Irving's The Third Leg
The Fourth Hand
By John Irving
Review by Dan Geddes
The Fourth Hand must have been a fun book to write. John Irving's novel is filled with attractive, successful, famous characters whose lives are stocked with memorable episodes.  In this case, the central character is a TV reporter, made world famous when his hand is devoured live on television by a hungry lion at an Indian circus. Patrick Wallingford's accident becomes one of the media events of the 1990s, and "the Lion Guy" becomes a household name. The accident earns Wallingford the sympathy of most women he meets, thereby aiding his already prolific philandering.
Wallingford continues his career in TV news, but becomes pigeonholed as "the disaster man," slotted to report on only the most bizarre accidents. Wallingford is also waiting for an appropriate hand donor. Finally, after a suitable donor dies in a truck accident, the hand donor's wife (Mrs. Doris Clausen) accompanies her dead husband's hand to Boston for the transplant surgery. Her motives are soon apparent. She and her deceased husband Otto had been trying to have a child. In lieu of that, she seduces Wallingford in the doctor's office, and soon conceives.
Wallingford decides he loves her (she has a great body and a sexy voice), but she doesn't know if she loves him, and so they lead separate lives. And besides: is Wallingford willing to give up his high profile job as an anchor at The Disaster Channel to live with Doris Clausen in Wisconsin?
Wallingford's loss of his hand continues Irving's career-long dismemberment theme, but it is impossible to feel sorry for him, as it has little negative impact on his life. So the central story becomes whether Doris will agree to marry Patrick Wallingford.
Wallingford's hand doctor, Dr. Zajac, is given a small yet entertaining storyline. He is divorced, and his ex-wife has primary custody of their son, and poisons his mind against his father. Zajac carefully wins the love of his son largely through reading E.B. White novels to him. His housekeeper, Irma, is wowed by his love for his son, and determines to win the doctor's heart. She begins an exercise regimen, and builds a great body, and the doctor eventually marries her. While this subplot points the way to Wallingford's happiness (a wife and child and a "simple" life), and it is amusing, the Zajac subplot feels tacked on, unnecessary for the lion guy storyline.
Wallingford's role as the spokesman of sensationalism recalls the charges of sensationalism against Irving's work. Irving, at least since Garp, has suggested that the world is a place of the bizarre, the grotesque, and dismemberment (even if he makes no claims that his fiction is realism.)
But the only perceptible moral of the tale is that Wallingford should exchange his own role in purveying sensationalism for a simple family life. Irving suggests that Wallingford's temporary use of Otto Clausen's hand influenced him in some ineffable way. Big Otto's "hand was not finished," we are told late in the book, in its quest to conceive a child with Doris Clausen. This is supposed to explain why Wallingford had the hand for one year, and was then Wallingford's body rejected the hand; the hand was finished with Wallingford. Later, Doris comes to love Wallingford for his "fourth hand" (the sensations he now has where his left hand once was; Otto Clausen's hand was his 3rd).
The Fourth Hand is another amusing John Irving production. Irving excels at the comedy of the human condition, which for Irving is often the black comedy surrounding injury and violence. Wallingford's accident with the lion is a typical Irving episode. As such it continues Irving's career length meditation on violence and fame. Characters described as famous appear in most of his novels, and usually their lives are marked by violent episodes.
But another notable trait of Irving's characters is the wealth and leisure time they have. Irving's last three books have featured affluent main characters (two of them writers with resemblances to Irving), who are able to face their challenges without the hassles of working a full time job or raising a family. Indeed, in The Fourth Hand the major conflicts are whether Wallingford will get the girl (Doris), and whether he will be fired from his job.
These stakes are not very high for the reader. Patrick Wallingford is a very wealthy man so his job is not so important to us. And his desire to marry Mrs. Clausen, while genuine, seems more wistful than heartfelt. Wallingford is an inveterate womanizer, right up to his proposal to Mrs. Clausen.
In fact, Mary Shanahan's scheming to both have Wallingford's child, and to take his job as anchor of the Disaster Channel become more interesting than the main storyline. Mary recalls the journalist Hannah Grant from Widow For One Year. Irving's descriptions of the behind-the-scenes struggle for power at the Disaster Channel are credible and hilarious, but it is hard to believe that Mary would push so hard to have Wallingford's child. It is obvious she is the foil to Doris Clausen, the anti-Doris: too perfect and ambitious.
Wallingford, for all his preternatural handsomeness, is a weak Irving hero. Irving describes him as a "penis head." It is implied he will learn to live a genuine life free from the sensationalism portrayed by the Disaster Channel. But this is only a lifestyle change of little real weight. Wallingford's escape from televised sensationalism is foreshadowed when Irving tells us that Wallingford doesn't watch television himself. Wallingford is in Boston for treatment by Dr. Zajac, who is in love again after a bitter divorce, and has built a good relationship with his son. His advice to Wallingford is to get a life, and to read aloud, preferably works of E.B. White like Stuart Little and Charlotte's Web. Perhaps this is Irving's lesson to us: turn off the TV and read to each other.
While this is a worthy lesson, I finished The Fourth Hand feeling as though this most entertaining and funny writer has so little to say. As so often noted, Irving writes in a 19th century style, but he still resists teaching morals with his tales. And this work feels dashed off.
5 October 2001
See also: Book reviews and criticism
---
Get the book! The Satirist - America's Most Critical Book (Volume 1)
Online Ads
Amazon
0 comments