Awakening: the Dawn of Breakfast Dessert
Tuesday, March 17th, 2015
---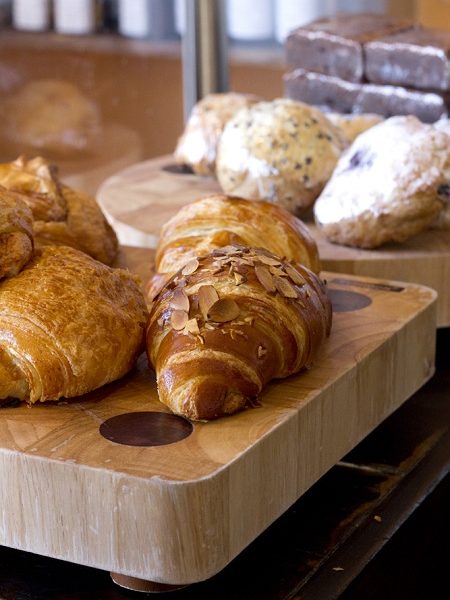 Leonard Glass
17 March 2015
Photo credit:  Didriks Foter CC BY
The noted gourmand I.M. Large first gained notoriety by eating his Pork Belly Chocolate Torte on Good Morning America. By calling it his "Breakfast Dessert," Large triggered the viral adoption of breakfast dessert as a discrete meal type. This led to Large's receipt of the 2015 James Beard Award for Innovation in the High Culinary Arts. The following is the text of his acceptance speech.
Modesty precludes my claiming that I alone originated the phenomenon of Breakfast Dessert. And yet, on the occasion of receiving this award from the James Beard Foundation, I am similarly loath to appear ungracious. So let's put aside the issue of credit for this delicious development of debatable provenance, and reflect on its history.
While the Romans are credited with originating the art of baking, none would deny the transcendent art of the French boulangerie and its centrality in breakfast indulgence: the croissant, in its various forms (almond, chocolate, even morning bun, but decidedly not the cronot), the brioche, the pain au chocolat, the mille-feuille, the galette; each a breakfast all-star. And one mustn't overlook Scotland's dry but versatile scone, England's Banbury cake, Germany's yeasty crumb cake and historically important Berliner, China's mooncake, Turkey's politically incorrect lady's navel, nor fail to mention America's own Cinnabun, pecan sticky bun, and, regrettably, Poptart (a shameful degeneration into patisserie industrielle).
But let's be clear: all of the above were conceptualized and consumed as breakfast, not as succeeding and supplementing the main course.
The brilliance of Breakfast Dessert in all its glorious manifestations is that it is eaten after and in addition to breakfast. Debates rage over whether this course should be consumed immediately following, say, such traditional fare as scrambled eggs and bacon, or after a pause of some duration, allowing the eater's appetite to at least partially recover in the interval. Further discord arose with the emergence of two prominent schools: the classical Sweet Breakfast Dessert adherents and the equally passionate Savory Breakfast Dessert devotees. The latter, having arisen more recently and, advocating such creative options as Taromasalata on rye crackers and jamon iberico on a slice of mancheco cheese with a dot of tart preserve, understandably have garnered a large and enthusiastic following.
More controversy followed when Tufts University School of Nutrition issued a white paper in 2014 asserting that the last thing overweight America needs is yet another admittedly highly caloric dining ritual.  Suffice it to say that some people don't know how to enjoy life and our gathering here today proves that others do.
And so, reluctant as I am to claim credit for a development as deeply rooted in the very origin of baking as it is in the more recent Western penchant for eating far in excess of nutritional requirements, I humbly accept this accolade on behalf of the overfed everywhere. As Julia used to say…well, you know!
---
Leonard Glass is a psychiatrist and psychoanalyst; although married to a consummate cook and author of three cookbooks, he claims to have avoided obesity "only because she padlocks the fridge."
---
Get the book! The Satirist - America's Most Critical Book (Volume 1)
Online Ads
Amazon
0 comments